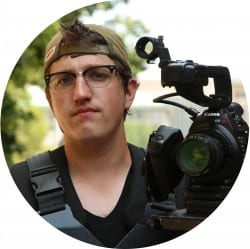 Jon Hanford
Media Producer
jhanford@columbia.edu
212 851-9696
505 Butler Library
As a member of the CTL video team, Jon Hanford provides both practical production services and conceptual consulting expertise to faculty, administrators, and partner organizations. In addition to shooting and editing a diverse array of projects—some for use within the University, others with global reach—he works with Center staff to ensure that video is used in a purposeful and effective way.
Before joining Columbia, Jon worked for Sarah Lawrence College, managing their computer labs and digital classrooms. There, he worked with faculty to ensure lab facilities met specific class needs. Jon was a key part of several long-term projects, such as the photography department's shift toward digital processing and printing, and the transition within the Art History department from 35mm slide collections to online digital cataloging of images. Prior to his work at Sarah Lawrence, he worked as a technician for Apple Computer's AppleCare support division. Jon has a B.A. in Television and Video Production from Hofstra University.
Jon got his start working in video at an early age, volunteering for the local access cable channel when he was 14. While in college, he started his own production firm that produced numerous projects for broadcast and web distribution, including music videos, short films, promotional videos, and advertisements. As a freelance cinematographer, he was at the forefront of the DSLR video movement, pioneering workflows and techniques that have now become standard. In his free time he serves as the producer for a comedy web series, segments of which have been featured on The Huffington Post, Vulture, Devour, Buzzfeed, and Al Jazeera's television program "The Stream." He has taken apart nearly every piece of electronics he owns, and put most of them back together.