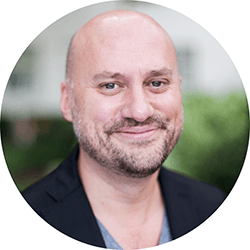 Marc A. Raymond
Senior Designer, Experience and Product
As Senior Designer, Marc provides design thinking, creative direction, and implementation for the CTL's educational technology projects and initiatives. His work can be seen in the web, print, identity, and video design of numerous Columbia platforms, campaigns, events, and services. He has been an integral creative contributor to Columbia projects since 2001.
In addition to designing educational technology products for instructors of higher education, Marc also has experience within the realm of K-12 education technology. He served as an after-school instructor at The Dalton School, where he taught user experience design principles, strategies, and tactics to high school STEM students.
Marc received his M.S. in Strategic Communication from Columbia University and his B.A. in Communication from Rhode Island College, with a major in media communication and a minor in film studies. He is also a graduate of the Manhattan Comedy School and has performed both stand-up comedy and storytelling at Comix, Caroline's on Broadway, and The Metropolitan Room.
When not brainstorming at the CTL, he can usually be found in one of the many libraries on campus studying Franco-American history or in his kitchen on the Upper West Side of Manhattan, cooking with his wife. He is originally from West Warwick, Rhode Island.