The Columbia Center for Teaching and Learning Faculty Programs and Services team is available to support all Columbia University faculty. Engage with us in the ways that meet your needs:
Learn together, connect with peers. Find community through our workshops, intensives, and conversations.
Learn online, anytime, anywhere. Check out our online resources and self-paced online courses.
Request a consultation. Connect with us. Receive customized assistance in person or remotely.
Be sure to check out our Fall 2023 Highlights or browse the entire CTL Events Calendar for all upcoming events for faculty.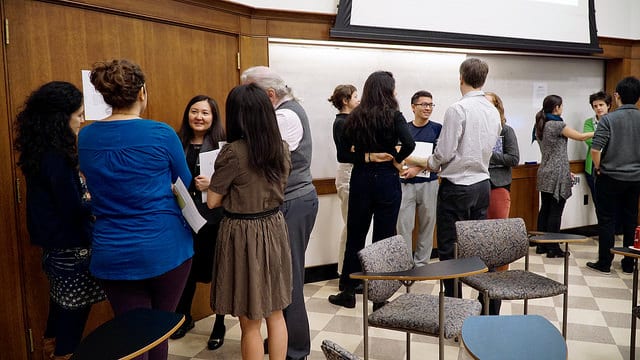 Learn Together
The Faculty Programs and Services team offers in-person programs to connect Columbia faculty with each other, evidence-based teaching approaches, resources, and instructional technologies. Faculty can choose to engage in programs ranging from one-hour workshops to multi-day programs.
CTL To Go
Invite the CTL to your next department, program, or school gathering! The CTL is available to facilitate an introduction to our offerings, conversations on teaching and learning, and pedagogical and instructional technology workshops to meet the teaching needs of your faculty.
Connect With Us
The Faculty Programs and Services team offers a number of free consultation services to help faculty at Columbia reflect on and develop their teaching practices.
Funded Projects
The Office of the Provost provides funding opportunities for faculty looking to enhance teaching and learning at Columbia by integrating new educational methods and technologies into classrooms, learning environments, and curricula. Faculty recipients of these grants receive organizational and instructional design support from the CTL. Faculty interested in applying for these grants can consult with the CTL as they develop their proposals.
Learn more about these funding opportunities from the Office of the Provost.
The CTL is here for faculty.
The Columbia Center for Teaching and Learning provides an array of support for faculty in both their work and their professional development.