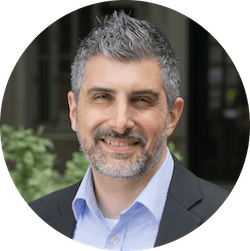 Vincent Aliberto
Senior Media Producer
va118@columbia.edu
212 851-2838
505 Butler Library
Vincent Aliberto is a Senior Media Producer at the CTL, where he works with the rest of the media team on MOOC development and production, as well as other video-related projects.
Prior to joining CTL, Vincent was the Manager of Video Services at Columbia's Center for Digital Research and Scholarship (CDRS). He has worked at Columbia since 2001. He recognized early on the need to capture events, lectures, and symposia on video, both for archiving and preservation as well as for online delivery. In doing so, Vincent had helped CDRS become a key resource for the University. He worked closely with The Earth Institute, The School of International Public Affairs (SIPA), University Programs and Events, and other departments on a regular basis. In addition to his role at CDRS, Vincent also worked as an adjunct faculty member for Columbia's Masters Program in Oral History, teaching students about the use of cameras, lighting, audio, and post-production in a six-week intensive class. Before moving to Columbia, Vincent worked at Thirteen/WNET as an audio engineer and associate producer for the CD-ROM/DVD-ROM version of the Emmy Award-winning PBS series, Civilization, Heritage and the Jews.
Outside of his role at CTL Vincent somewhat fancies himself a musician, primarily playing his guitar. He also dabbles in photography, and enjoys reading blogs related to all things film and video.