Exploring MOOCs and Critical Historical Thinking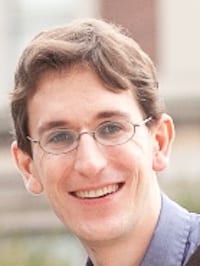 For Tim Shenk, a Ph.D. student in the Department of History, serving as a teaching assistant for the Massive Open Online Course series on the American Civil War and Reconstruction led by the distinguished historian Eric Foner was not just an opportunity to participate in one of the most comprehensive online course offerings Columbia has yet mounted—it was a chance to revisit one of the most formative moments of his intellectual career.
As an undergraduate at Columbia College, Shenk took Professor Foner's course, which helped to shape his academic trajectory. "I knew that I wanted to be a historian, but this was maybe the most decisive intellectual influence framing how I went about pursuing that goal," he says. "It was just transformative."
His experience was due in no small part to the teaching assistant in that course, who met frequently with him outside of class and, Shenk notes, "was very, very encouraging of a young history nerd, which meant a lot to me at the time." Serving as a teaching assistant himself—first for the Columbia course, taught in the spring 2014 semester, which provided the core content for the MOOC, and then for the MOOC, which launched in the fall of 2014—allowed him to provide a similar opportunity to another generation of students.
"It was a great experience, being on the other side … being able to try and do something for these students [comparable] to what my T.A. had done for me," he says.
---
"This process of critical historical education changed my life, and I want to help people to have that kind of experience, if they want to. And figuring out ways to adapt that, make that better, improve it, seems like a very good way to spend my time."
---
As the lead teaching assistant for the MOOC, Shenk had a wide gamut of responsibilities, from consulting with staff from Columbia's Rare Book and Manuscript Library to identify primary-source documents for digitization and inclusion in the online course material, to developing, in collaboration with Professor Foner, the quizzes and discussion questions that accompany the course videos. He also conducted a series of supplemental video interviews with Professor Foner that elaborated upon themes raised in the lectures; moderated discussions on the course website; and facilitated Google Hangout sessions, which allowed MOOC participants to interact with Professor Foner directly and ask questions about the course.
"For someone at the early stage of their career, like I am right now, it's just an invaluable opportunity to have the chance to interact with this technology, something that we should all have at this point—both to understand what it does well and to understand what we need to do better in the future," Shenk notes.
On the MOOC Platform: Successes and Shortcomings
The most obvious benefit to MOOCs is the potential for widespread dissemination of knowledge; Professor Foner has remarked that the course allowed him "to reach more students than I have in my entire career." Moreover, while MOOCs generally tend to have low completion rates, the Civil War and Reconstruction course had a high level of sustained activity, as reported by the Columbia Center Teaching and Learning, which developed the MOOC in conjunction with Professor Foner. (For more on the development process, see "The Professor's Last Stand" in Columbia Magazine.) Through his work moderating the course discussions, Shenk got a firsthand look at the students and their engagement with the material.
"It really is everything from 'I'm a 13-year-old homeschooler in Oklahoma' to 'I'm a 93-year-old veteran in Japan,' and every point along the way," he says. "That combination of diversity with the passion and engagement that they brought to the subject was very inspiring. There are people who care about this stuff, and lots of people who are decently familiar with the literature already saying … [for example] 'What about this article from Fogel and Engerman?'"
---
"We've learned how to use the Internet to replicate this kind of textbookish-like education, which is valuable, but not the only thing the humanities can do. How can we use the enormous resources provided by this technology to enrich the other types of scholarship and teaching that the university has traditionally been home to?"
---
Shenk remarks that the experience of working on the MOOC has given him a new awareness of ways in which technology can be used to enhance traditional pedagogy, but also ways in which the MOOC platform falls short and can be improved.