Call for Applications: Reflective Teaching Seminar (Online) for Faculty
Who are you as a teacher?
What do you believe is most important for your students to learn?
How do you do teach them this? Why? 
The Center for Teaching and Learning is currently accepting applications for the Spring 2018 cohort of the Reflective Teaching Seminar. Join a community of Columbia University faculty, postdocs, and staff to reflect on your teaching experiences and commit to improving student learning through your teaching.
The seminar, which kicks off Thursday, January 25, will be offered in an online format to allow for more flexibility for participants who aren't able to make the multiple face-to-face commitments, but who want a similar, engaged community experience in a small cohort. Find more information about the program and a link to the application below.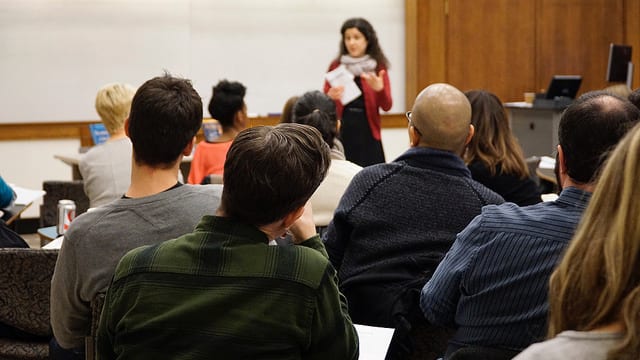 Who Can Apply?
Faculty, postdocs, and staff who:
have experience facilitating learning.
are interested in reflecting on their teaching.
are prepared to put reflection into action through intentional course design.
About the Program
In this program, faculty and staff will reflect on their teaching experiences and explore their pedagogical practices and beliefs by participating in discussion activities, completing readings and course design assignments, and receiving feedback on their progress.
Upon completing the seminar, participants will be able to:
Engage in systematic reflection on teaching and learning.
Apply concepts and ideas from the literature on teaching and learning to practice.
Develop and align objectives, assessments, and teaching methods in a specific course context.
Provide and integrate feedback into your reflective teaching practice.
Develop a reflective community of practice.
Units of Study
The program takes places over a semester term, organized into six units of study:
How Learning Works
Reflecting for Inclusion
Developing Student Learning Objectives
Measuring Your Students' Learning
Engaging Your Students
Reflecting Forward
Each participant will also complete a CTL Teaching Observation to engage in collaborative discussion and receive formative feedback.
NOTE: While this CTL offering will take place in a fully online environment, we will have TWO face-to-face meetings: one kick-off orientation session at the beginning of the semester (Thursday, January 25 from 3:00 pm – 5:00 pm), and one closing session at the end (Thursday, April 12, from 3:00 pm – 5:00 pm). These sessions will require pre-work and discussion, and will also provide us a chance to get to know one another and celebrate in community. Refreshments will be served.
Any questions?
Email CTLfaculty@columbia.edu to contact the Center for Teaching and Learning's Faculty Programs and Services team.